Daycare works well for a variety of dogs:
Puppies: We focus on both healthy interactions with other dogs, as well as humans. We balance play and attention with time to rest and eat to help your puppy grow up healthy and socialized. Puppyhood is the critical time to socialize, and we offer a safe and supervised environment to do so!

Dogs and puppies that don't do well home alone: There are different reasons why some dogs act poorly when left home alone. We will make sure your dog gets exercise, attention, and supervised care, so you won't have to come home to destruction!

Dogs who love to play

Dogs with a lot of energy

Dogs who don't get enough exercise at home
Day Care provides a safe alternative to leaving your canine companion at home.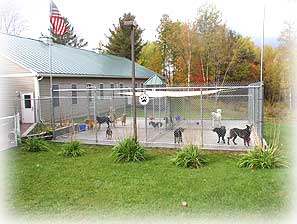 We strive to meet the individual needs of all of our clients, so please tell us of any special accommodations your dog may need.